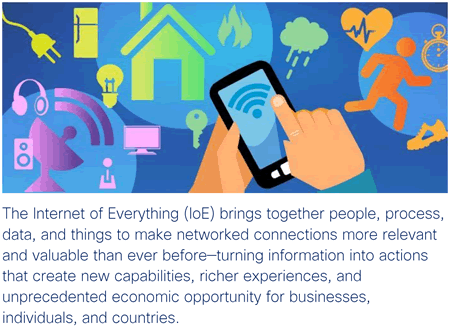 Introduction to the Internet of Everything course provides an overview of the concepts and challenges of the transformational IoE  economy. The course discusses the Internet and its evolution to the interconnection of  people, processes, data, and things that forms the Internet of Everything.
The course introduces the concept of a network foundation connecting billions of things  and trillions of gigabytes of data to enhance our decision making and interactions. Course modules describe how IOE drives the convergence between an organization's  operational technology (OT) and information technology (IT) systems, and the business  processes for evaluating a problem and implementing an IoE solution.
Target Audience
Self-directed learners who want to understand what IoE means for them
Self-directed learners who want to leverage their technical knowledge into IOE-related functions in the workplace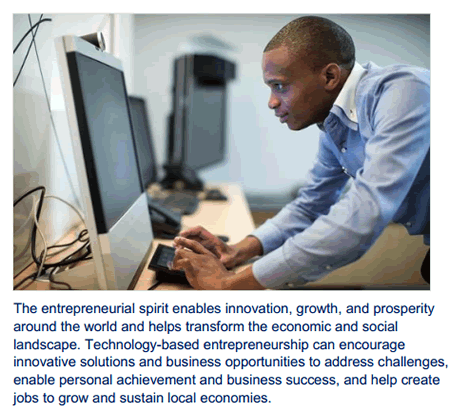 Entrepreneurship course teaches business and financial skills, attitudes, and behaviors to help students develop an entrepreneurial mindset that can empower them to improve their lives.
It incorporates a new approach to teaching and learning  entrepreneurial skills with interactive, online case studies designed to help students learn business skills and apply networking capabilities within the context of starting a business. The course is delivered through the Cisco NetSpace® learning and collaboration environment.
The case studies introduce basic business and financial concepts through activities and scenarios that cultivate and reinforce the skills needed to become a successful entrepreneur. The case studies promote:
Increased self-confidence and personal motivation
Improved leadership skills and financial literacy
Inspiration to start a small business.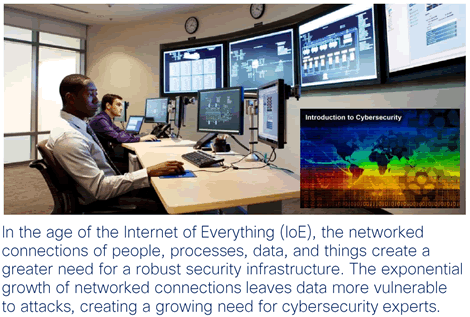 Cybersecurity refers to the people, products, and processes that protect electronic data from those with malicious intent. This course introduces students to networking professionals who discuss the exciting and growing industry of cybersecurity.
The course modules define cybersecurity, explain why it's important, and introduce the products and processes used to secure data.
Course modules:
The Cybersecurity Industry
Malware and How to Protect Yourself
Overview of Cybersecurity in Finance and Telecommunications
Cisco Security Solutions
Defending Against Global Threats
Strategic and Architectural Cybersecurity Planning
Vulnerabilities and Solutions
Will Your Future Be in Cybersecurity?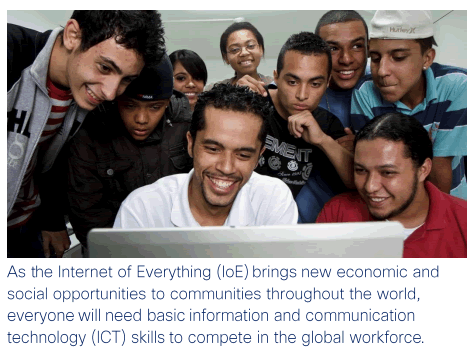 Introductory course for students interested in learning the basics of IT, including the Internet, social media, and the relevance to everyone.
Get Connected course provides an introduction to the digital world with networks as a foundation for connecting people and things. The curriculum helps students understand how to use computers and connect to the Internet.
Get Connected also explores the human network and introduces students to the world of social media. Students experience the fun and value of interacting with others through common software applications and tools.
Target Audience
Students looking for a basic introduction to IT fundamentals
No previous knowledge required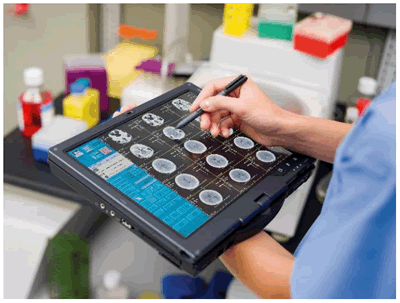 Wireless and mobility technology skills are essential for a career in networking in the age of the Internet of Everything. This series complements the skills taught in the Cisco CCNA Routing & Switching courses and enables learners to acquire foundational wireless skills and knowledge.
Mobility Fundamentals helps students:
Understand wireless networking technology basics
Configure Wireless LAN components
Understand Wireless LAN security
Design mobile networks and set up home Internet access
Understand mobile networking applications, like BYOD
*NB: Registration fee of KES 3,000 required. (Covers all courses) 
  Certificates awarded after completion of course.