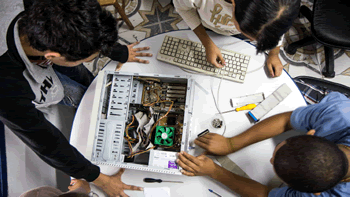 The Cisco Networking Academy® IT Essentials: PC Hardware and Software curriculum provides an introduction to the computer hardware and software skills needed to help meet the growing demand for entry-level ICT professionals. The curriculum covers the fundamentals of PC computer technology, networking, and security, and also provides an introduction to advanced concepts. IT Essentials: PC Hardware and Software is a hands-on, career-oriented e-learning solution with an emphasis on practical experience to help students develop fundamental computer skills, along with essential career skills. The Cisco IT Essentials curriculum helps students prepare for entry-level ICT career opportunities and the CompTIA A+ certification, which helps students differentiate themselves in the marketplace to advance their careers. In addition, the course provides a learning pathway to the Cisco CCNA Discovery and CCNA Exploration curricula.
Features
IT Essentials: PC Hardware and Software provides a comprehensive introduction to the ICT industry and interactive, hands-on exposure to personal computers, hardware, software, and operating systems. The curriculum offers the following features and benefits:
Students develop working knowledge of how computers operate, how to assemble computers, and how to troubleshoot hardware and software issues
Hands-on labs and virtual learning tools help students develop critical thinking and complex problem-solving skills
The course emphasizes the practical application of skills and procedures needed for hardware and software installations, upgrades, and troubleshooting systems
Cisco Packet Tracer simulation-based learning activities promote the exploration of networking and network security concepts and allow students to experiment with network behavior
Interactive assessments provide immediate feedback to support the evaluation of knowledge and acquired skills
Entry Requirements
No prerequisites! This course is intended for individuals who wish to pursue careers in IT.  It also helps students develop greater skills and confidence in working with computers and local area networks.
PDF Download: IT Essentials Course – At A Glance
Fee: Ksh 25,000 (tuition only)
Duration: 5 days, Mon- Fri (8.30am – 4.30pm)
Classes (2019):  4th – 8th Feb;   15th – 19th April;   15th – 19th July;   14th – 18th Oct