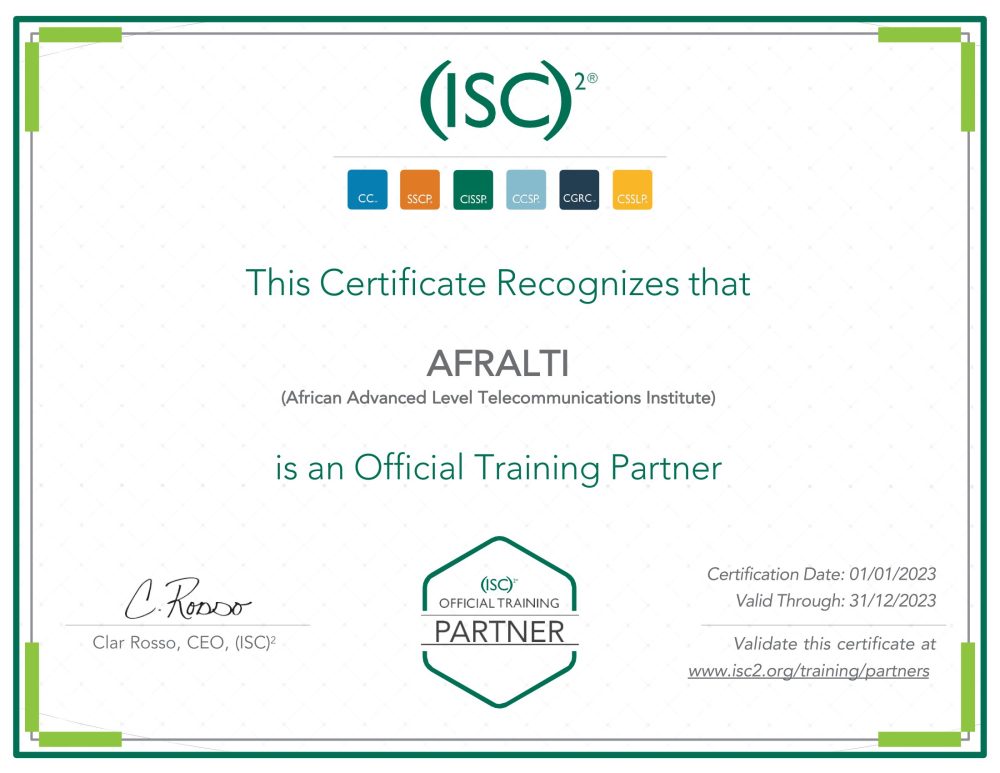 ---
---
AFRALTI has entered into a partnership with (ISC)², which is an international, nonprofit membership association for information security leaders committed to helping Internet users grow and thrive by offering globally recognized certifications on cybersecurity.

Through this collaboration, AFRALTI as an Inter-Governmental Institute established in 1991 to supplement and spearhead ICT development efforts mainly in Sub-Saharan Africa, aims to narrow down the widening cybersecurity skills gap in Africa by offering appropriate training and certifications.

With 5.3 billion online users globally according to ITU report, the prevalence of cybercrimes is concerning, as one-sixth of all crimes are now committed in the digital realm. In Kenya, during the period January to March 2023, the National KE-CIRT/CC detected over 187 million threat attempts targeting critical infrastructure service providers in a short period. By 2030, it is projected that over 50% of jobs in Africa will require some level of digital skills, in Sub-Saharan Africa, according to a report by the International Finance Corporation (IFC), 230 million jobs will demand digital skills by the same year. These numbers highlight the massive potential of digital literacy and cybersecurity expertise in our workforce.

Speaking during the signing of the MoU, AFRALTI Director, Mr. William Baraza said, "Solving the cybersecurity skills gap crisis requires all stakeholders' involvement and working with partners such as (ISC)² will help meet the high demand in the industry. With more threats and too few professionals, companies looking for cybersecurity skills want a tertiary qualification as an entry-level requirement, when in reality anyone can be upskilled- with relevant baseline qualification, such as a CISSP and experience or exposure to generalist IT environments, people could become good all-round security practitioners."
"We are very pleased to welcome AFRALTI as an Official Training Partner of (ISC)² . (ISC)² official Training Partners are the only organisations authorized by (ISC)² to provide official training in our suite of products, from our entry level CC Certification to the world renowned CISSP.
The global skills gap is well publicised and our own 2022 Workforce study (https://www.isc2.org/Research/Workforce-Study) shows that whilst the cybersecurity industry, including (ISC)² in association with our partners, are adding to the numbers of certified cybersecurity professionals each year, the number of vacant cybersecurity roles continues to grow.

Initiatives such as this collaboration are an important part in ensuring a safe and secure cyber world for everyone.

Official (ISC)² training courses available from Official Training Partners like AFRALTI are taught by verified security experts, authorized by (ISC)² to deliver the most relevant, up-to-date course content developed by (ISC)², the creator of the CISSP CBK." Marc Barfoot, Manager, Commercial Partnerships, (ISC)²
About AFRALTI
African Advanced Level Telecommunications Institute (AFRALTI) is an Inter-Governmental Organisation established in 1991 to supplement and spearhead ICT development efforts in Sub-Saharan Africa. The mandate of AFRALTI is to develop human capacity in ICTs (included herein is training, consultancy and research).

The Institute has over the years expanded its reach and participants come from all African countries and
other parts of the world. AFRALTI trains in English and French speaking African countries through various international collaborations. AFRALTI is also an ITU Centre of Excellence that provides capacity building in programs developed by ITU. In addition, AFRALTI has long standing partnerships with BigTech organizations in provision of training, research and innovation solutions in Africa.

About (ISC)²
(ISC)² is an international nonprofit membership association focused on inspiring a safe and secure cyber world. Best known for the acclaimed Certified Information Systems Security Professional (CISSP®) certification, (ISC)² offers a portfolio of credentials that are part of a holistic, pragmatic approach to security.

Our association of candidates, associates and members, more than 365,000 strong, is made up of certified cyber, information, software and infrastructure security professionals who are making a difference and helping to advance the industry. Our vision is supported by our commitment to educate and reach the general public through our charitable foundation – The Center for Cyber Safety and Education™. For more information on (ISC)², visit www.isc2.org, follow us on Twitter or connect with us on Facebook and LinkedIn.
---