---
---
In our endeavor to attain excellence in service delivery, the Institute is focusing on customer service training to help develop a mindset dedicated to delivering outstanding customer service to both external and internal customers.
On the 4th and 5th March this year, all the staff members of the Institute undertook a highly interactive and practical programme on "Stellar Customer Care" conducted by Anderson Human Capital customer care training professionals.
The training focused on developing a customer service culture that builds loyal customer relationships where every staff member understands their individual responsibility in the delivery of excellent service to customers and how it impacts the growth of the business in general.
At the close of the training, the staff appreciated that provision of exceptional customer service is the differentiating factor in today's competitive business environment without which the growth of business jeopardized.
Below is the group photo of the staff members and the trainers taken during the training.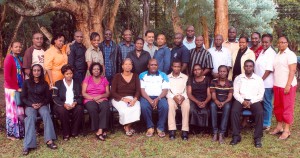 ---