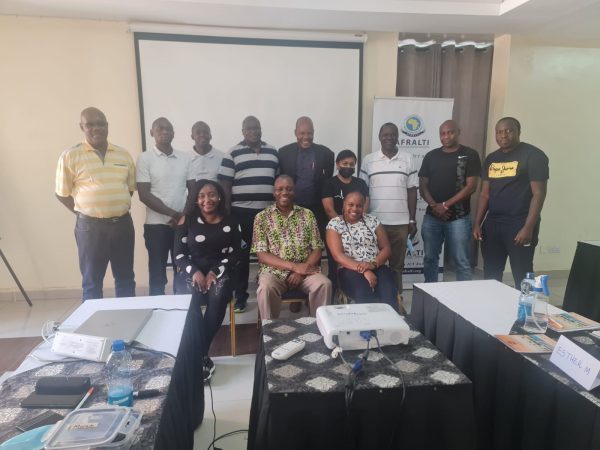 ---
---
The world is rapidly changing and so is how business is done. E-commerce (the buying and selling of goods and services over the internet) has evolved in many ways since its start, and it's changing the way we live, shop and do business. E-commerce plays a pragmatic role in helping economies benefit from trade. According to the e-Conomy Africa 2020 report, Africa's Internet economy has the potential to reach $180 billion by 2025, accounting for 5.2% of the continent's gross domestic product (GDP). By 2050, the projected potential contribution could reach $712 billion, 8.5% of the continent's GDP. With enabling policies, e-commerce can catalyze growth of businesses through facilitation of both domestic and international trade thus accelerating socio-economic transformation.
In January 2022, AFRALT trained 14 officers from the Communications Authority of Kenya in e-Commerce Policy Development in Machakos, Kyaka Hotel. The training was facilitated by Abigail Bundi, the CEO & Founder of Amari Consulting Ltd  and Dr. Enock Kinara Former Postmaster General, Postal Corporation of Kenya.
This 5 course prepares regulators and policy makers and equips them with the knowledge and required skills to be able to develop policies and regulations that will govern and support the growth of e-commerce.
By the end of the course the participants were able to:
Gain an understanding of e-commerce and its benefits to the economy
Understand the state of e-commerce in Kenya
Show an understanding of e-commerce laws and regulations (data and privacy, intellectual property, consumer protection, consumer contracts, electronic signatures etc.)
Identify policy areas and develop informed action plans using a range of practical techniques that translate to an enabling e-commerce environment.
With its footprint cut across the Sub-Saharan Africa, AFRALTI is able to customize the course to fit a country's unique e-Commerce position.
The course runs for 5 days In-person and 4 weeks virtual. The institute is currently registering participants for 19 April 2022 intake.
For more information, write to training@afralti.org or call/chat +254 710207061
---