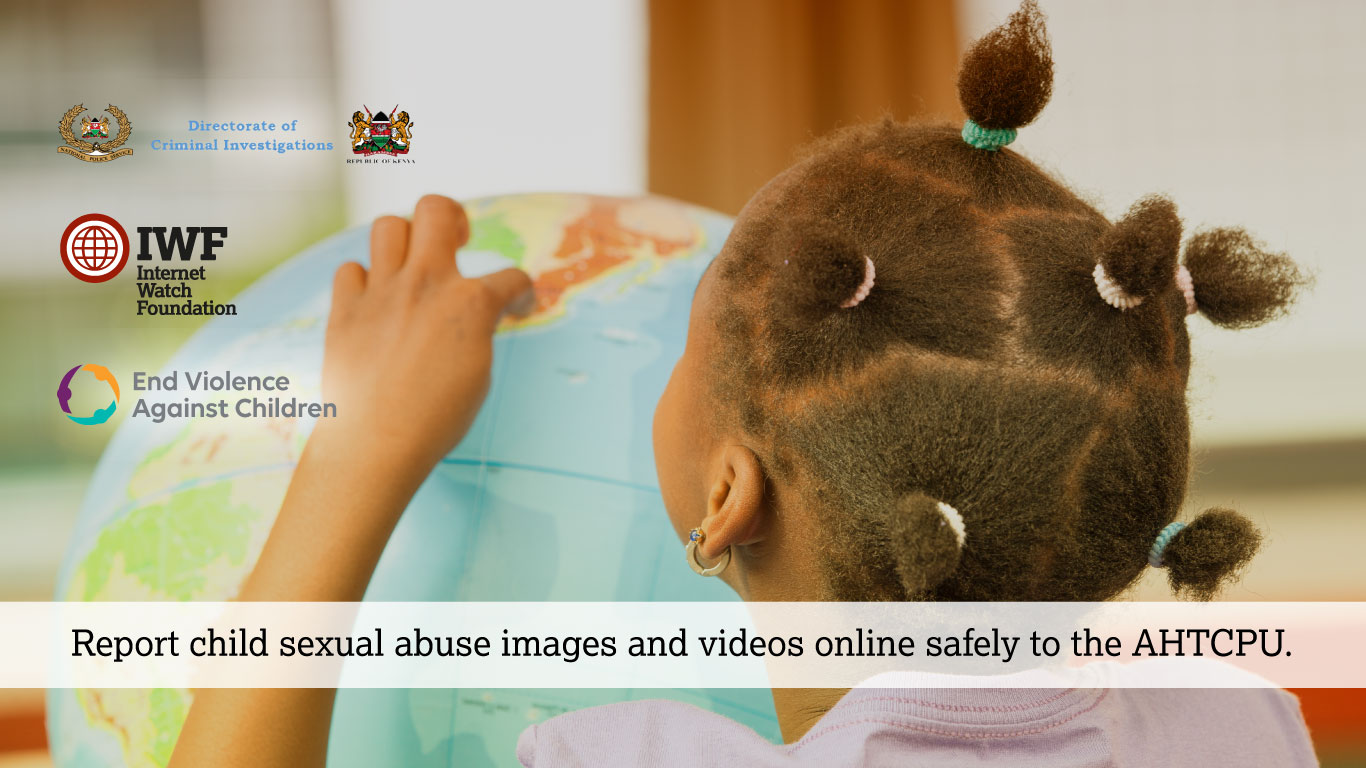 ---
---
A new reporting portal will provide a direct link to Kenyan law enforcement to report criminal images and videos of child sexual abuse to expert IWF analysts to support them in their fight again online child sexual exploitation.
The Internet Watch Foundation (IWF) has teamed up with the Kenyan Government's Anti-Human Trafficking & Child Protection Unit (AHTCPU) to launch a brand-new dedicated portal for law enforcement in Kenya to report suspected images and videos of child sexual abuse on the internet.
The Portal is available in English and can be accessed by law enforcement. The IWF is working with partners to make the portal available to the wider population of Kenya.
The IWF is the UK-based international charity responsible for finding and removing images and videos of child sexual abuse from the internet.
Once reported through the new portal, images and videos will be assessed by trained IWF analysts in the UK.
If they are found to contain child sexual abuse, they can be blocked and removed from the internet.
Susie Hargreaves OBE, Chief Executive of the IWF, welcomed the new portal, saying it came at an important moment in making the internet safer for the entire world.
She said: "This is a brilliant step forward, and we are so pleased to have been able to play our part in getting this portal up and running.
"All around the world, people are spending more time on the internet due, in part, to the coronavirus. This is a particularly important time to make sure child sexual abuse on the internet is called out, wherever it is being shared, and this portal will play a huge role in making sure this can be done safely."
The new portal has been met with enthusiasm in Kenya. Mueni Mutisya, Head of Anti-Human Trafficking and Child Protection Unit (AHTCPU), said: "Child online protection is a shared responsibility".
Waqar Qureshi, International Liaison Officer for Kenya & Uganda, National Crime Agency, said: "The National Crime Agency (NCA) works closely with the Kenyan Directorate of Criminal Investigation's department of Anti Human Trafficking and Child Protection Unit (AHTCPU).
"In 2019, our strong ties with AHTCPU led to the creation of the unit's cyber wing, which conducts investigations into online child sexual exploitation and abuse.
"As the NCA's International Liaison Officer in the region, I am very proud to be involved in the set-up and launch of the Internet Watch Foundation's portal for online anonymous reporting, and am confident that this initiative will increase the number of investigations of child sexual abuse and exploitation by AHTCPU.
"We expect that this will allow us to safeguard more children from the growing online threat, which has always been our number one priority."
Kelvin Lay MBE, Head of Strategic Partnerships with Qumodo said: "Having been involved in the creation of Africa's first dedicated Anti Human Trafficking and Child Protection Unit in 2016  and the first dedicated Child Exploitation Cyber Unit in 2018,  Qumodo are delighted to continue to support the huge impact this unit is having leading the way in the fight against child exploitation across Africa.
"With the launch today of the IWF Portal in Kenya this puts in place another piece of the infrastructure that is required to protect the rights of African Children.
"Qumodo look forward to continue to work hand in hand with the Kenyan Directorate of Criminal Investigations and to provide the technology and mentorship in partnership with the, IWF and other strategic partners to bring a consistent law enforcement response across Africa and beyond."
This is the  44th IWF portal. It is the 21st to be launched in Africa, and the 26th Global Fund sponsored Portal to launch.
IWF Portals are currently available in 17 languages (Arabic, English, French, Hindi, Indonesian, Kazakh, Lingala, Malaysian Bahasa, Mongolian, Nepali, Pashto, Portuguese, Spanish, Swahili, Ukrainian, Urdu, Wolof).
---