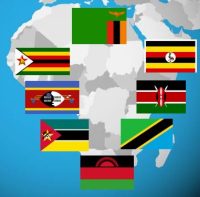 ---
---
African Advanced Level Telecommunications Institute (AFRALTI) is an Inter-Governmental Organization (IGO) established in 1991 to supplement and spearhead ICT development efforts mainly in Sub-Saharan Africa.
Being an IGO, AFRALTI constitutes of 8 member states who sit at the Governing Council. Currently the member States that have ratified the Intergovernmental Agreement (IGA) include; Tanzania, Uganda, Malawi, Mozambique, Kingdom of Eswatini, Zambia, Zimbabwe and  Kenya which is the host country under the Communications Authority of Kenya.
In line with AFRALTI's mission to provide quality training, consultancy and advisory services to the ICT Sector in Africa, AFRALTI's Director Mr. William Baraza had the pleasure of visiting some of the member states as the year winds up.
During his visit to Tanzania, Zambia, Uganda and Malawi, AFRALTI Director met with regulators and ICT institutions in the respective countries. 
In Tanzania, he paid a courtesy call to Tanzania Communications Regulatory Authority's Director General, Dr. Jabiri Bakari and Fatuma Seleman Saidi – Senior Human Resource and Administration Officer as they discussed ICT capacity building and research development opportunities in the region.
While in Tanzania, he visited the Eastern and Southern African Management Institute (ESAMI). AFRALTI and ESAMI strive to partner in Capacity Building, Consultancy and Research efforts in the region.
He also paid a courtesy call to Pan African Postal Union (PAPU) in Arusha. The visit follows AFRALTI's active participation in building capacity among the Postal & Courier operators in Africa.
In Zambia, he had the pleasure of visiting Zambia ICT College where he toured their state-of-the-art ICT labs. He was joined by the Zambia ICT College Executive Director Mrs. Betty Shitima Bweupe and her team. Also present was a team from Zambia Information and Communications Technology Authority (ZICTA). He also joined the ZICTA senior leadership led by the Director General, Mr. Mutale Mwenya, at their strategy meeting retreat where they discussed AFRALTI capacity building opportunities for the Zambia ICT regulator. 
In Uganda, he visited the Uganda Communication Commission and met the Executive Director, Ms. Irene Kaggwa Sewankambo where they had various discussions on training, innovation, research and consultancy opportunities that the two organizations can explore for partnership. He also visited  Posta Uganda Limited where he met the Managing Director Mr. James Arinaitwe and Head of Human Resource Ms. Rosette Atukunda as they discussed capacity building opportunities in the postal and courier industry in the region.
He also had the pleasure of meeting National Information Technology Authority -Uganda (NITA-U) Executive Director Dr. Hatwib Mugasa where they explored opportunities in the telecommunication and innovation research in Kenya and Uganda.
Malawi as one of the member states, AFRALTI Director had the pleasure of meeting the Malawi Communications Regulatory Authority (MACRA) Director General Daud Elvin Suleman. Also in Malawi he met Malawi Telecommunications Ltd's CEO, Dr. Harry Gombachika. They explored partnership opportunities for the two organizations on capacity building, consultancy and research.
AFRALTI strives to continue expanding its tentacles across AFRICA as it envisions to be a leading and self-sustaining Centre of Excellence for ICT capacity building in Africa.
---