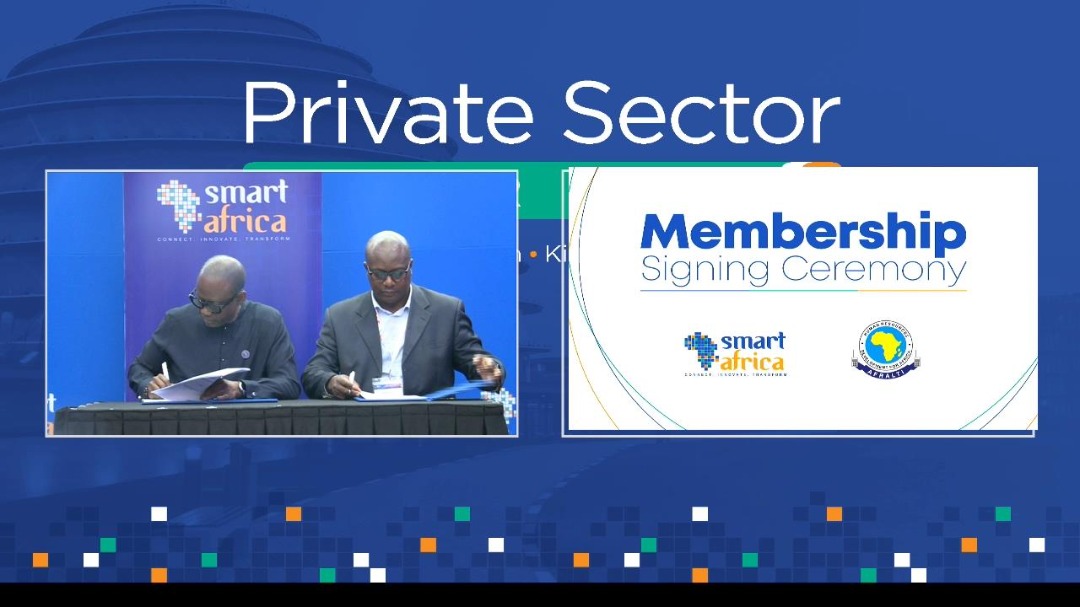 ---
---
Nairobi, Thursday 27th October 2022 – The Smart Africa Alliance welcomes AFRALTI as an academia member to advance Smart Africa Digital Academy initiatives.
As a pan-African dynamic learning ecosystem, SADA aims to improve digital skills qualifications, employability, and meet the emerging talent needs of African citizens. National digital academies have been rolled out in countries such as Congo, Rwanda, Ghana, Benin and Côte d'Ivoire to support the uniquely identified digital skills priority needs at each country level.
With the vision to be the leading global ICT capacity development institute, AFRALTI mission is to provide capacity development, research, advisory services and promote innovation through quality programmes, strategic alliances, and partnerships.
On average, the Institute serves fifty (50) organizations in a year across the African continent. In the last five years alone, Institute has trained over 30,000 participants from the region.
Together with AFRALTI, the Smart Africa alliance seeks to expand and broaden the Smart Africa Digital Academy reach and ambition.
"We are extremely pleased to welcome AFRALTI's extensive experience in the training and capacity building area. I am confident their input will be valuable and impactful in fulfilling the ambitions of our Smart Africa Digital Academy," highlighted Mr. Lacina Koné, CEO/Director General, Smart Africa Secretariat.
The addition of AFRALTI as an academia member of the Smart Africa Alliance signals our commitment to deepen and broaden the development digital skills as the continent embraces digital economy through the fourth industrial revolution (4IR).
"We are very delighted to be an academia partner of the Smart Africa Alliance and believe that the partnership will extend AFRALTI's capacity building and research footprint to the government and private sector membership of the Smart Africa Alliance. As Smart Africa Academy's and AFRALTI's visions converge, we are positioned to deliver programs that are geared to address the current and future digital skills gap amongst the membership of the alliance in particular and the African population at large." said Mr. William Baraza – AFRALTI Director.
End.
About Smart Africa
Smart Africa is an alliance of 32 African countries, international organisations and global private sector players tasked with Africa's digital agenda. The alliance is empowered by a bold and innovative commitment by African Heads of State to accelerate sustainable socio-economic development on the continent and usher Africa into the knowledge economy through affordable access to broadband and the use of ICTs. With a vision to create a single digital market in Africa by 2030, the Smart Africa Alliance brings together Heads of State who seek to accelerate the digitalization of the continent and create a common market. Launched in 2013 by seven (7) African Heads of State, the Alliance now has 32 member countries, representing over 815 million people and over 40 Private Sector members committed to the vision and the advancement of Africa.
For more information, contact:
Yvan Guéhi
Head of Brand and Communications
Smart Africa Secretariat
E-mail: comms@smartafrica.org
Website: www.smartafrica.org
Twitter: @RealSmartAfrica
Facebook: RealSmartAfrica
About AFRALTI
African Advanced Level Telecommunications Institute (AFRALTI) is an Inter-Governmental Organisation established in 1991 to supplement and spearhead ICT development efforts in Sub-Saharan Africa. The mandate of AFRALTI is to develop human capacity in ICTs (included herein is training, consultancy and research).
The Institute has over the years expanded its reach and participants come from all African countries and other parts of the world. AFRALTI trains in English and French speaking African countries through various international collaborations. AFRALTI is also an ITU Centre of Excellence that provides capacity building in programs developed by ITU. In addition, AFRALTI has long standing partnerships with BigTech organizations in provision of training, research and innovation solutions in Africa.
For more information, contact;
Catherine Kagwiria
Communication & Branding Officer
AFRALTI
Website: https://www.afralti.org/
Email: training@afralti.org
Facebook: @AFRALTI
Twitter:@AFRALTI
---