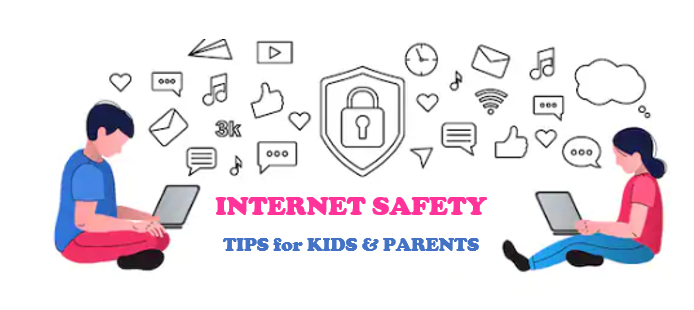 ---
---
By Stephen Kinyua Gachogu, Cybersecurity Expert at AFRALTI
With the social distancing, travel restrictions, closure of schools, business shutdowns, and lockdowns; businesses and organizations are accelerating implementation of web-based applications and advertising online services as Covid-19 bites. The whole world has turned to the Internet for business continuity and keeping themselves engaged during this pandemic time. Everyone is now hooked to the Internet! Cybercriminals on the other hand are busy sharpening their hacking tools and evil tricks for the big cyberhunt.
With schools closed across the world in response to the COVID-19 pandemic, and most people sticking very close to home, suddenly parents are confronted with the sometimes-dismaying prospect of keeping their kids occupied. We must protect our vulnerable children and young people during this period by remembering and practicing the following cybersafety tips to reap the maximum benefits from the use of the Internet:
Be aware of the children's right and remind ourselves and our children that the world and individual governments have sufficient laws for protecting our children and they should always report any situation they get uncomfortable with to their parents, teachers, care givers, and government agencies.
Be in touch with our children and encourage them to ask questions related to any strange thing they come across on the Internet.
Be in the know – as parents and care givers, we must endeavor to understand the Internet language and the applications like Kik, Tumblr, Vine that our young people are using in order to bridge the generation gap. That way you can strike a friendly conversation with the elusive youths and use the opportunity to share some words of advice with your cyber smart kids.
Be the shepherd by guiding your children on where to get relevant educational and recreational resources. For instance, the Longhorn website is offering free learning resources for pre-primary to high school students. You can also visit

https://scratch.mit.edu

and encourage them to create games.
Encourage openness by ensuring that devices used by the little ones with Internet connection are not hidden in their bedrooms but are in public places where everyone can see what the kids are doing.
Keep social distance in the cyber space by cautioning your children that not all internet friends are good friends and some can be abusive, some are not real but catfishes that pretend to be well-known celebrities.
Never reveal personal information, such as address, phone number, passwords with anyone.
Keep kids on the move – let the children take a break from technology. Expand their skills in other areas like cooking, art and crafts, go for walks around the estate, exercise.
GPS features on mobile devices enables one to tell physical location of individuals – pedophiles use this information when endearing themselves to children – disable these location features on your phones when you are not using them.
Be conscious of your child's behavior by keenly observing them. Any change of behavior like withdrawal could mean that your kid is in trouble. This could be as a result of bullying by other children, watching age inappropriate content, strange requests to do something and many others. Internet overuse especially for entertainment should be discouraged.
Be sure your laptop is sanitized and immunized by making sure that antivirus software is enabled and up-to-date. Disable WiFi and Bluetooth features when you are not using them.
Consume what is necessary – Not everything on the Internet is worth downloading, some of the content and links are created as baits to lure you into downloading malware that can be used later to read sensitive information stored on your devices.
Switch off the Internet when you go to sleep as this helps in reducing exposure time and guarantees some control of Internet-related activities at home during your sleep.
Be a good Internet citizen and remember that the offline social rules never change when you go online. With all the time at home and an Internet connection, resist any temptation to post or forward unverified, inappropriate, or illegal content.
Quarantine your phone by locking it so that your kids don't accidentally start using your phone to access age-inappropriate content.
Remember the internet is like an open market – remind your children not to post or trade personal pictures on the Internet for what is posted online will remain permanent and cannot be undone.
Always use legitimate software that has not been compromised and that comes with security features implemented by the vendor and also has the ability to download security patches to continually protect your computer.
Whenever you are faced with a threatening cyber related incident, do not hesitate to report it to

http://www.ke-cirt.go.ke

or your nearest police station.
Finally, Go easy on yourself. Do what you can. These are difficult and uncertain times for parents and children. Parents will feel stressed, and children will, too. Talk about this with your child, explain how you manage stress, and invite children to help think through ways they can be more helpful or ways you can both make a difference in your own community or family.
The Author
Mr. Stephen Gachogu is an Internet & Cybersecurity Expert. He teaches Information Security, Assurance, and Governance at the African Advanced Level Telecommunications Institute (AFRALTI).
Mr. Gachogu is a Certified Ethical Hacker, Certified Information Systems, Certified Computer Forensics Investigator (CHFI)
Email: sgachogu@afralti.org
Phone:  +254 722 679 236
---