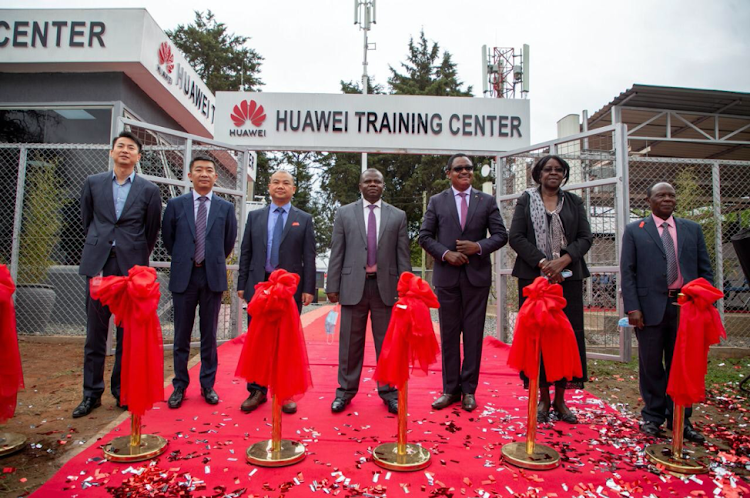 ---
---
AFRALTI signed an agreement with Huawei Technologies Kenya Limited to offer Hardware Based Trainings in the newly launched Huawei Training Center. The aim of the training center is to provide a steady of talents for Kenya's ICT Industry and continually help Kenya's ICT industry development at a highspeed.
The training center was unveiled by the PS, Ministry of ICT, Jerome Ochieng, representing the CS, Ministry of ICT Innovation and Youth Affairs, alongside the PS, Ministry of Education, Amb. Samuel Nabukwesi; East Africa Director at UNESCO, Ms Ann Therese Ndong-Jatta; and Huawei Southern Africa Vice Presidents Mr. Duan Xue Peng and Mr Frank Yang.
Ministry of ICT Principal Secretary,  Jerome Ochieng, noted that skills gaps across all industries are poised to grow in the 4th Industrial Revolution with the draft Digital Economy Strategy 2021 calling for a renewed focus on developing skills sets and requisite values for all Kenyans to meet the competencies and expertise required for the digital economy.
The center has a wide array of the latest innovative equipment in mobile networks, fiber networks, energy solutions and other integrated telecommunications infrastructure.
The training center is equipped with the following:
15 Meters Triangular Tower (GU900+U2100+GL1800+L800+5G)
IVS (CCTV) Lamp Pole
Module Pole
Site Energy Cabinet
FTTX Scenario (OLT, FDT, FAT, ATB, ONT)
Watch the opening ceremony here
For registration and more information, visit https://www.afralti.org/huawei/ or write to training@afralti.org or call/chat +254710207061
---