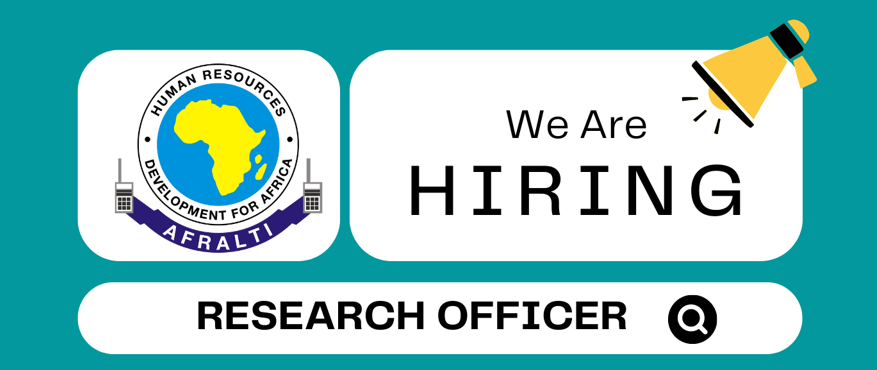 ---
---
ADVERTISEMENT TO FILL POSITION AT AFRALTI
The African Advanced Level Telecommunications Institute (AFRALTI) based in Nairobi, Kenya, is a leading Intergovernmental Organization and ITU Centre of Excellence which is mandated with the provision of information and communication technology training and consultancy in English speaking Africa, invites applications to fill the following vacant post.
POSITION:  RESEARCH OFFICER
Purpose of the Job:
The Research Officer will work closely with the Director and the Head of Training.  The candidate is responsible to conduct research, consultancy, capacity building, develop research objectives, projects, proposals, attract research grants, undertake research and evaluate outcomes. Plan, coordinate and implement research programmes in accordance with AFRALTI requirements.
Department:       Research and Consultancy
Job Title:                 Research Officer
Reports to:             Director
Direct Reports:       Research Assistants
Station:                   Nairobi, Kenya
Job Responsibilities:
a) Develop & Drive Partnership Research Programmes
Develop research objectives, projects, proposals, undertake research and evaluate outcomes.
Develop and implement partnership research programmes in accordance with Institute strategy, policies, procedures and funder requirements.
Create and apply research go/no go mechanism as a tool for informed decision making.
Analyze and constantly update research priorities of donors, research institutions, and other key stakeholders locally and globally.
Assess current and future research priority trends to be ahead of the game with Partnership research results.
Analyze research market and availability of research grants, both local/global research funding opportunities with relevance to AFRALTI.
Develop and manage the partnership research approach with its concept considering donor promise, finance interests, and industry trends.
Ensure the partnership research approach, action plan, and go/no mechanisms are available and successfully utilized.
b) Strategic Research Partnerships
Identify and nurture existing research partnerships.
Build new partnerships with various research institutions and agencies externally.
Develop ideas for generating income and promoting research area in the Institute.
Co-create and conduct joint research designs with existing and new research partners.
Increase partnerships with academic institutions to increase the credibility of AFRALTI evidence.
Develop research grant proposals to create and strengthen partnerships with research grant donors.
Existing research partnerships are nurtured, and several new research partnerships, including with research donors, are established.
c) Conduct Research
Design and conduct cross-sectoral Partnership research to generate robust evidence of impact to show AFRALTI's unique value proposition.
Shift from functional to multi-sector research designs to generate rich learning complementing results from the partnership impact measurement framework.
Ensure due focus on information communication technology, new research designs to balance learning from various contexts and diverse program types.
Introduce and lead longitudinal research on the basis of information communication technology.
Providing strong evidence of AFRALTI's contribution to the promises made to donors and our unique value proposition across multiple sectors.
Develop research reports and various other materials based on the research findings in close cooperation with partners.
At least one partnership research design is developed every financial year in close consultation with the Director and technical team.
d) Disseminate Research
Lead the dissemination of research findings as well as recommendations among key stakeholders.
Identify various international platforms where partnership research results could be presented for AFRALTI's further prepositioning.
Publish research findings in peer-reviewed journals and other technology newsletters.
Partnership research reports with key findings and recommendations are shared widely internally and externally.
e) Other
Support successful realization of new initiatives and projects of the Institute evolving gradually.
Candidate's Profile
The job holder should possess the following minimum qualifications:
A Master's degree in Social Sciences, Development Studies, Business Management or related field from an accredited and recognized university.
Bachelor's degree in Computer Science or Telecommunications.
PhD holder will be an added advantage.
At least 3 years of proven experience in independent research.
At least 2 years of proven experience in leading quantitative and mixed methods research.
In addition, candidates should demonstrate the following competencies:
Proven record of quality research proposal development complemented with a high win rate.
Proven experience in building collaborative relationships.
Training in System Analysis; Scenario Modelling, or Geographical Information Systems;
Good GIS analysis skills and demonstrated excellent English language communication skills, including writing journal articles, web and policy briefs;
Proven ability to write business proposals and mobilize resources.
High proficiency in various statistical software of data science and Graphical Analysis of Data.
Interviewing & Data collection skills.
Ability to prioritize and plan, coordinate and monitor his/her workplan.
Well, connected to a wide network of researchers and aid workers working in the field.
Please submit your cover letter with a comprehensive curriculum vitae that contain details of qualifications, experience and positions held relevant to the role including telephone and email contact, plus names and contacts for three (3) reputable referees emailed to: recruitment@afralti.org.  Applications should be addressed to the below
The Director
African Advanced Level Telecommunications Institute (AFRALTI)
P O Box 58902 – 00200
Nairobi
and to be received on or before Wednesday, 30th November 2022. Only shortlisted candidates will be contacted.
---