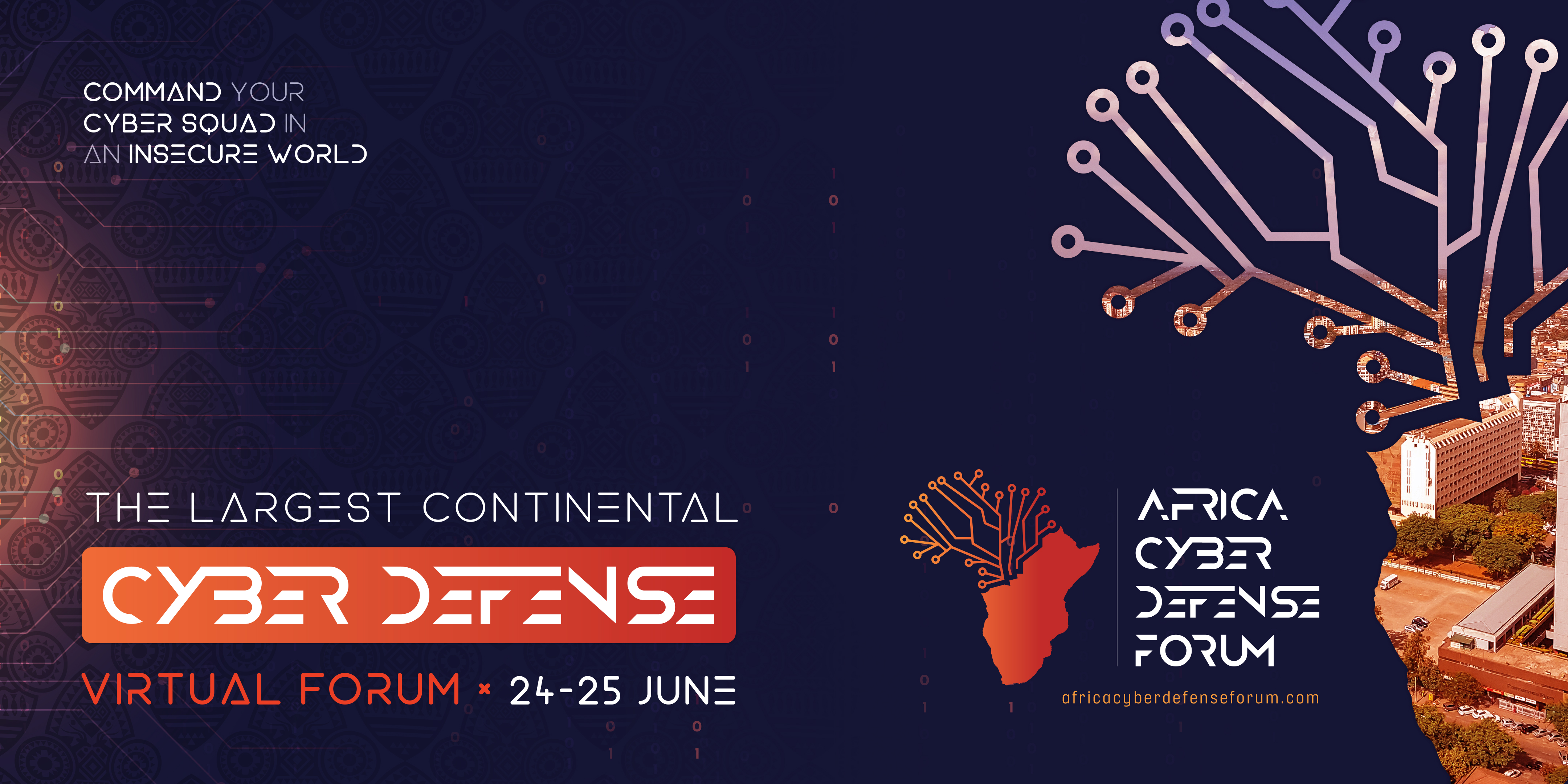 ---
---
For Immediate Release
AFRICA CYBER DEFENSE FORUM COLLABORATES WITH AFRALTI TO HOST VIRTUAL CYBER DEFENSE FORUM ALONGSIDE CYBERLYMPICS
Nairobi, 2nd June 2020: Africa Cyber Defense Forum (ACDF) in collaboration with African Advanced Level Telecommunications Institute, AFRALTI, is announcing the first African Virtual Cyber Defense Forum 2020 taking place on the 24th -25th June 2020.
The theme of the conference is A More Secure World, More Business Activity and More Jobs and focuses on the future of information security through better and safer cyber defense technology through
Participation in progressive business conversations
Inspiring and connecting thought-leadership, experts, and organizations to local, global, and societal trends in the cyberspace
Developing and Connecting Cybersecurity experts in a business conscious platform and globally.
According to an ICT security survey conducted by Kenya National Bureau of Statistics & Communications Authority of Kenya (CA), Kenya alone lost about Sh18 billion ($175 million) to cybercrime in 2016 while Markets and Markets analysis report on the African Cybersecurity published in its June 2015 publication suggested that the Africa cybersecurity market size is expected to grow from $0.92 Billion in 2015 to $2.32 Billion by 2020, at a Compound Annual Growth Rate (CAGR) of 20.41% from 2015 to 2020.
The 2020 forum will feature
Top-level presentations and panel discussions: From government and Corporate officials across Africa, Europe, and the US deployed across executive, technical, and solutions track to review and forecast the cybersecurity landscape.
Virtual Cyberlympics, (Africa Cyber Defense Competition – ACDC): The Largest Continental Cyber Defense Competition for innovation, competitiveness, and cyber security skills assessment program.
Expert Alliance, (The African Alliance of Cybersecurity Executives – AACE): Developing and connecting cybersecurity executives in a business conscious platform
The forum's chairman, Mr. William Baraza, Director and CEO of AFRALTI, who spoke on the sidelines of the Africa Cyber Defense Forum Advisory Meeting in Nairobi, said that Africa Cyber Defense Forum has put in place a robust framework to promote homegrown solutions and innovations through R&D in cybersecurity allowing local innovative cybersecurity companies to come and showcase their latest solutions during the Virtual Forum.
About Africa Cyber Defense Forum
The Africa Cyber Defense Forum is a continental platform for public-private cooperation. The forum through its well curated and world class content, engages top level government, Technology experts, business leaders and other leaders of society to shape the continental, regional and industry agendas in the African cyber space.
Our activities are anchored in our passionate pursuit of better and safer technology and we are seeking to shape the future of information security through progressive inspiring conversations in technology and offering thought leadership to both governments, society and private sector.
We believe that technology has the potential to bring transformative change in the continent, but we must ensure that it is equally secure. This is why by bringing together experts from all walks of life in a business conscious platform we can make a positive change in our society.
In 2020, we bring together open-minded, creative, and forward-thinking ICT experts, entrepreneurs, and individuals at the front-line of information security, cyber defense technology, technology review, and Business executives under the theme, A More Secure World, More Business Activity, and More Jobs.
For more information, visit: https://africacyberdefenseforum.com/
About AFRALTI
African Advanced Level Telecommunications Institute (AFRALTI) is an Inter-Governmental Institute established in 1993 to supplement and spearhead ICT development efforts mainly in English-speaking Africa. Currently the member States that have ratified the Intergovernmental Agreement (IGA) include Lesotho, Kenya, Malawi, Mozambique, Kingdom of Eswatini, Tanzania, Uganda, and Zimbabwe, out of the 23 eligible members.
AFRALTI has an African footprint in the continent. The Institute has over the years expanded its tentacles and participants come from most African countries. AFRALTI trains in English speaking African countries through various collaborations. In the French speaking African countries, AFRALTI partners with Ecolé Supérieure Multinationale des Télécommunications (ESMT), a Centre of Excellence (CoE) partner in Dakar, Senegal. In the West African region, our collaboration with Ghana Telecommunication University College (GTUC) enables AFRALTI to reach the countries in that region and through The Institute's active member States in the Southern and Eastern Africa. The liaisons with all these partnerships enable the Institute to reach out to Africa.
For more information, please visit: https://www.afralti.org/
CONTACT:
J.W. Richards
Manager – Communications and Programs, Africa Cyber Defense Forum
+254 (0) 707 486 002 / richards@africacyberdefenseforum.com
---