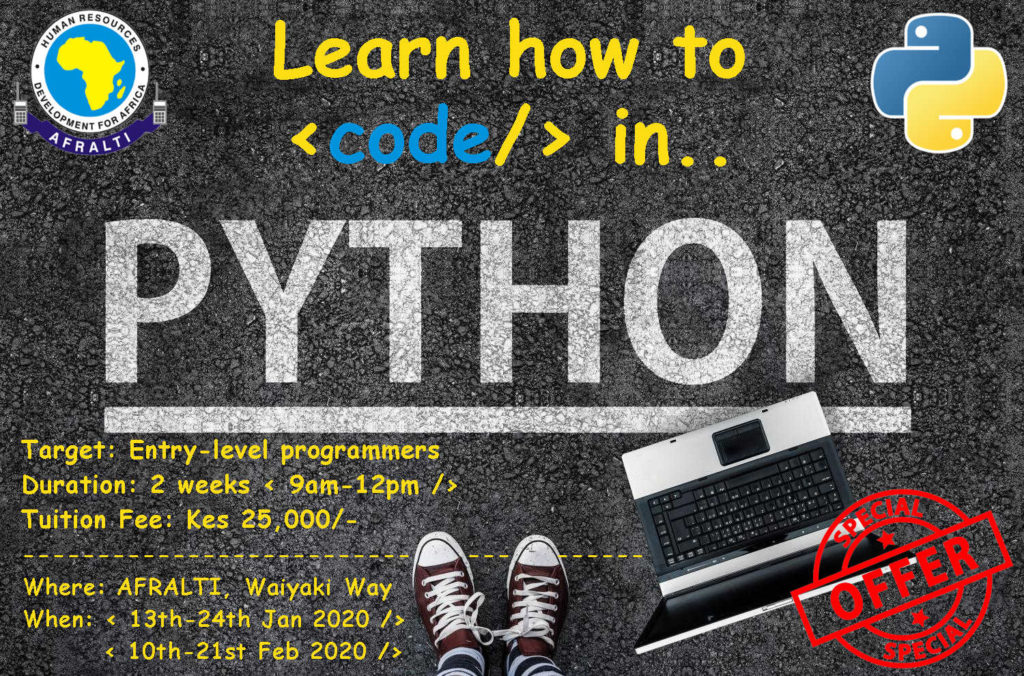 ---
---

Are you programming enthusiast, hobbyist or an entry-level programmer?
If so, then grab this one of a kind exciting offer.. You'll not only enjoy this course, but it will also equip you with today's most valuable tech skill – programming!
But why learn Python? Learn more about this course here: www.afralti.org/python
Or click here to download the course outline.
---
About This Course
Course Title: Programming in Python
Course Duration: 2 Weeks
Course Dates: 13 Sept – 24 Sept 2021; 27 Sep – 8 Oct 2021; 25 Oct – 5 Nov 2021; 25 Jan – 5 Feb 2022; 15 Mar – 26 Mar 2022
Target Audience: Entry-level programmers (including high-school leavers)
Prerequisites: None, but basic computer skills will be useful.
Course Methodology: Instructor-led training with intensive coding exercises to make students grasp
the programming concepts and think like programmers.

Related posts: 
https://www.afralti.org/code-kidzz/ 
https://www.afralti.org/why-learning-to-code-is-a-must-for-everyone/ 
python programming kenya, python training kenya, learn python kenya, python training africa, code in python, data analytics, machine learning, artificial intelligence
---